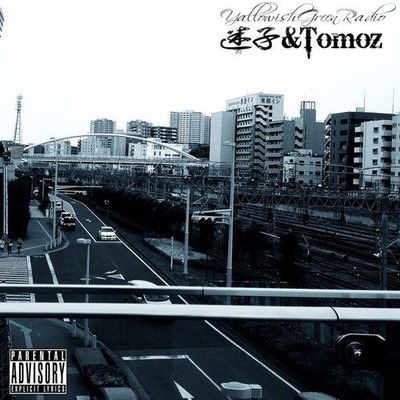 After religiously following
2Dcolvics
music blog I discovered this album and the artwork caught my eye, very urban in feel. Now on to the artists.
迷子
(
Maigo
) &
TOMOZ
.
迷子
is an emcee from Saitama, Japan who started rapping around 2001 and was part of an group called
KUROCODAiLL
and is currently signed to
G.M.P.
(
Get More Props
)
Records. TOMOZ
is a Hip Hop/R&B producer, DJ and CEO of
bull star Records
, also a part of
G.M.P.
Yellowish Green Radio
was released on iTunes just yesterday, but has gotten some considerable hype, because if there's one thing
G.M.P.
knows how to do, it's how to get their artists props!
YGR
starts off with
in my self
and is an old school song that mixes a vocal track,hi-hat and heavy bass drums.
迷子
raps over this track that you could consider an intro. Next is
tag match
, which contrary to the name, it does not involve multiple emcees tagging in and out to spit. tag match has a very almost West Coast Hip Hop style beat and by extension so does 迷子's flow. The beat consists of heavy piano and bass with rhythmic piano strokes for lack of a better word and a clapping backing track.
so what
starts off with piano and a child choir that transforms quickly into a sampling along with keyboard, drums and a heavy bass. The track features
迷子
and
KULO
from
D.P.G. JAPAN
(
Dogg Pound Gangstaz Recordz
) an artist on the Japanese branch of
Dogg Pound Gangstaz Recordz
founded by
Daz Dillinger.
This track features a nice mixture of rapping in Japanese and English.
絆 part.2
has a very mellow beat and features
迷子, TAKUMA THE GREAT
a Taiwanese/Japanese rapper and a member of
Forte
,
HOOLIGUNZ
and
CHOPSTICK FANTASY
as well as
LOOTA
from
SQUASH SQUAD
rapping. The final track is called
time over
and like the rest of
TOMOZ
's tracks, has a very West Coast, cruising through the hood kind of feel to it. This song was also the one they used for the PV which you can see at
YouTube
If there is anything I can say even slightly negative about this album, it would be that it's just an EP and kinda short, but when something is good you want more so that's a good sign and this was definitely worth the money at just under $5 on
iTunes
. I will definitely be on the look out for new releases by
迷子
&
TOMOZ!
迷子 - TWITTER
TOMOZ - TWITTER
KULO
-
TWITTER
TAKUMA THE GREAT - TWITTER
LOOTA - TWITTER