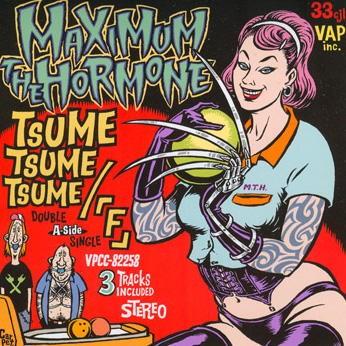 Maximum the Hormone
, no idea what it means, but it sounds amazing and that's all that matters.
MTH
mix rock, metal, pop, punk and hip hop and....even a little reggae into a perfect storm of very heavy and very catchy songs.
MTH
consist of
Maximum the Ryo
on clean vocals i.e. singing and guitar,
Nao
on drums and backing vocals,
Daisuke
sings, screams and raps and
Ue-Chan
plays bass and sings backing vocals as well. They're most famous outside of Japan for their songs being used in the
Death Note
anime.
1.Tsume Tsume Tsume - TTT can only be described as a perfect storm of rock and pop. The song smashes you in the face immediately with
Daisuke
's death metal style vocals with thrash style guitar coming from
Maximum the Ryo
while he screams in his signature high pitched style then proceeds to rap as fast as he possibly can along to
Ue-Chan
's masterful bass playing. Of course I can't forget about
Nao
who is by far the best female drummer I've ever heard and she has an extremely cute singing voice , not to say that doesn't't mean she can't sing; she can. TTT is insane it's heavy and is perfect to mosh to, but breaks into a pop style chorus and is the perfect song to mosh AND dance to and is definitely one of the best songs
MTH
have ever released.
2.F - Apparently this song is about
Dragon Ball Z
character
Freeza
. All I know is that this song starts off with very heavy guitar and Ryo's rapping then
Ue-Chan
starts with the fastest bass playing I have ever heard in my life and that's saying something. The song mostly consists of Daisuke's death metal vocals with
Ryo
's high pitched screaming and alternates with
Nao
and
Ryo
singing together. Near the end it starts off just like an opening theme to an Anime would then as soon as it starts, it ends and goes back to the pure brutal energetic music as before.
3.Kill the 394-This is a very short studio recording that is extremely heavy and brutal with nothing but screaming then kicks into a very catch bass rift with
Ryo
singing then goes back to screaming. I swear
Daisuke
has a death metal scream anyone in the genre would envy. Of course when you think it's over it's not and turns into a totally upbeat pop song then it just….ends abruptly.
Tsume apparently means nail in Japanese and well
Tsume, Tsume,Tsume,/F
Nail, Nail, Nail, Nailed it!
Tsume Tsume Tsume/F
reached #2 on the
Oricon
charts and went gold in Japan and sold over 250,000 copies in Japan and around the world and it should have. This single should be in every house in the entire planet. There is something perfect about this little tease that
MTH
gave us before they went on hiatus the last time and it will definitely make you want to hear their latest album which is an EP which I will be reviewing sometime soon I hope.
5/5
You can get
Tsume, Tsume Tsume/F
on
iTunes Japan
and possibly
iTunes
in Europe.