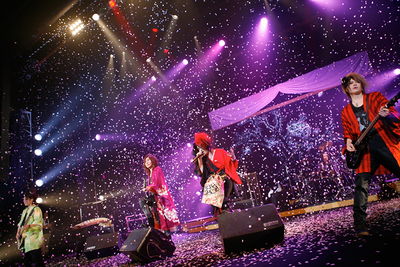 Today's song of the day is a Kagrra song. They were probably one of my favorite bands when they were around. Kagrra had a way of combining rock, blues, and traditional Japanese sounds that was unique and lovely.
Isshi, the vocalist, died almost 11 months ago. It was actually same week as Amy Winehouse. That week sucked. Two favorite vocalists, down in one week. That was really, really not cool. Even if Kagrra called their disbandment a "demise", as long as all five of them were still alive, we could only hope there was a chance for a reunion, even for just one show. Well, not anymore.
In any case, please enjoy this song. Have you checked out R.Y.O's interview with Mirai Kawashima of Sigh yet? It's awesome.
There will be even more awesome stuff coming, as always, so keep an eye out!!